15/08/2004 03:56 AM
Marc Hinton
South Africa 40 New Zealand 26
Stunned by a Marius Joubert hat-trick and struck senseless by a more energetic, passionate and accurate Springboks side, the All Blacks will stumble home from Johannesburg having surrendered their Tri Nations title in meek fashion.
There was no arguing the result at Ellis Park on a sunny Saturday afternoon as the Springboks powered past their New Zealand opponents to end their horror run of defeats against the Kiwis at eight on the trot and leave themselves to play off for the Tri Nations trophy against the Wallabies next weekend.
The Springboks, with their five tries to two victory, now have seven competition points, just two behind New Zealand and Australia and the winner of next weekend's finale in Durban will hoist the trophy. The All Blacks face the very real prospect of finishing wooden-spooners.
Judging by their hugely impressive performance against a sadly out of sorts All Blacks side in Johannesburg, the Boks look to be every chance of coming from last at the halfway point to clinch a famous victory over the Wallabies to land the silverware. Momentum, and confidence, is certainly on their side.
It was another shambolic, error-strewn performance from Graham Henry's side who really have fallen off the pace over the second half of the Tri Nations campaign. There will now be some inevitable soul-searching as the coach ponders just what went wrong over this last fortnight, and just what to do about it.
Though as bad as the All Blacks were - and at times it was pretty awful stuff - you had to admire the intensity and commitment of the Springboks who were desperate to win this game and leave themselves in with a shot at glory next weekend.
Their pack was superb, led by the wonderful Schalk Burger and with Joe van Niekerk in fine form back in the starting XV, and they got a monster game out of centre Joubert whose hat-trick of tries were like dagger blows to the All Blacks' fading hopes.
His hat-trick was only the second achieved by a Springbok against the All Blacks, matching Ray Mordt's feat way back on the 1981 tour of New Zealand. The fair-haired centre was certainly the star act on a night when so many South Africans came up big.
Brainless Stuff
Their intensity left the All Blacks for dead, they finished their chances much the better and they also managed to lure the New Zealanders into some pretty brainless stuff as the high risk approach inevitably cost the visitors dearly.
Like Christchurch three weeks earlier, the Springboks managed three tries in the first 40 minutes to go into the break, if not in command, certainly in the box seat at 19-13.
All Blacks fullback Mils Muliaina had also given his team nigh on the perfect start when, after less than seven minutes, he followed up Andrew Mehrtens' early penalty with a piece of individual magic to weave and accelerate 60m for a brilliant touchdown.
At 0-10, and the capacity crowd of 68,000 stunned into silence, the Springboks then finally stirred into life and hit back with withering effect.
They were helped, it must be said, by a succession of New Zealand errors that rather contributed to their demise. Once again the backline was stuttering along like a clapped out jalopy and up front the South Africans were dominating the battle for territory.
Joubert had the opening of two first-half tries in the 18th minute when Tana Umaga fell off a tackle badly, winger Breyton Paulse got the Boks to within one, at 12-13, when he cashed in on a poor piece of All Blacks ball security and Joubert completed the spell's scoring when another New Zealand error coughed up ball and De Wet Barry made the telling break to put his midfield partner over.
One or two pieces of individual brilliance aside, it was another pretty ordinary half for the New Zealand backline who too often forced the issue and too few times found gaps to run into. And it was a worrying spell for the All Black forwards too, struggling to lay on quality ball and also coughing up a couple of lineouts.
Spurred Into Action
Rokocoko put the All Blacks back in front 13 minutes into the second spell when he hit the line at speed to finish a nice set piece move from an attacking scrum. Mehrtens delayed his pass nicely and the Springboks could not stop the speedster in full flight.
But that just spurred the Boks into action, winger Jean de Villiers putting his team out to 30-26 when Joubert turned provider from a scrum attack and the No 13 finishing the scoring three minutes from time, shrugging off a weak Mose Tuiali'i tackle to complete the misery.
Sam Tuitupou battled gamely for the All Blacks at second five, the pocket battleship getting his team crucial go-forward even with that broken rib of his. Rokocoko also had a far more prominent match than a week earlier, Muliaina caused problems with his strong running and Mehrtens produced a measured performance back in the black No 10 jersey.
Up front the All Black pack failed to stamp their mark on this match, as they had done in Christchurch, though Chris Jack and Carl Hayman continued their sound individual form of the campaign.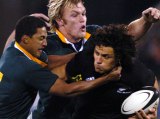 © Fotopress/Ross Land
The New Zealand defence was again below par, the South Africans' five tries featuring some fairly soft tackling, and it continues to be an area of the All Blacks game that has slipped back under Graham Henry. There were also far too many basic errors for any test side to regard as satisfactory.
For all that the Boks were worthy of their victory. They were the more fluent side on attack, defended with vigour and commitment and struck with more intent at the breakdown. They also committed less errors than a New Zealand lineup well off the pace on the skill front.
It is all set up for a superb finale in Durban next weekend, while the All Blacks can only contemplate where it all went so sadly wrong the last fortnight.
South Africa:
M Joubert 3, B Paulse, J de Villiers tries; P Montgomery 3 con, 3 pen.
New Zealand:
M Muliaina, J Rokocoko tries; A Mehrtens 4 pen, 2 con. Ht 19-13.