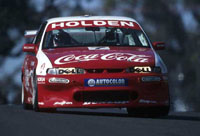 The awesome Bathurst 1000 km race at Mount Panorama in the Australian state of New South Wales, is the most important race on the V8Supercar (touring car) calendar.
It's a race which has created legends, humbled international stars, and thrilled Australians (and fans around the world) since 1963. Normally public roads, the daunting 6.2 km track rises high over the rural town of Bathurst and comprises some of the most exhilarating and terrifying pieces of bitumen anywhere in the world.
Many sections 'across the top' of The Mountain, as it is known, are blind and rely on a driver's commitment, skill and bravery to take flat-out. Skyline Corner is just that, a view of the sky and nothing else at over 160 km/h. On the long, downhill Conrod Straight cars nudge 300 km/h before wiping off two-third of their speed for Caltex Chase.
The Bathurst 1000 is the race which stops Australia and Wayne wants to win it so badly he can taste. He has raced at Bathurst since 1992 and finished third twice (1993 with the Holden Racing Team, 1995 with Wayne Gardner Racing) but in 1998 he nearly won.

"I was set to win but the engine blew up," he recalls. " I'd caught and passed (six-times winner) Larry Perkins and had a 12 second lead but the engine let go at Forrest's Elbow with only about a quarter of the race to go. It was a huge blow. I was pushing hard, the tyres were working well, and we were pulling away. It was really disappointing--it was the closest I've been to winning. I still think it was my best Bathurst (performance) to date, even though I'd been on the podium before. My whole ambition was to go there and win with my own team. To be the first motorcycle rider to go to Bathurst and win with his own team would have been pretty cool." But that dream is not over and in 2000 Wayne joined the Ford Tickford team and got pole position. He lead the race for the first two hours before machine failure finished the day.
"I really want to win Bathurst because it is THE race in Australia," he says. "It's the Holy Grail and I'll keep coming back until I win it. You've just got to keep trying."