Hungry Stags rip up script, write thriller
09 August 2004

By DARYL HOLDEN

What a difference seven days made for the Southland Stags. This really was unbelievable.

Last week they bumbled their way to a poor NPC rugby buildup win over second division North Otago but on Saturday they produced one of their finest home victories for some time.

It was Southland's first victory over Otago since 2001, their first in Invercargill since 1997 and a perfect confidence-booster ahead of their National Provincial Championship opener against Waikato on Saturday.

The Stags' 31-28 non-championship win over Otago at Rugby Park shocked everyone, including triumphant coach Phil Young.

He admitted feeling "quite worried" before the start, not knowing exactly how his team would fare against an Otago team that thumped a strong Canterbury selection the previous week.

Young's concerns were justified early as Otago effortlessly went to a 13-nil lead after 23 minutes through two Mathew Berquist penalties and a converted try to lock Filipo Levi, who crashed over from a goal-line ruck.

The game seemed to be heading the way of so many Otago-Southland clashes where the visitors would do just enough to win without bursting the effort tank. Perhaps Otago thought that would happen again because it never played with the intensity of the Stags and was never allowed to bring any continuity into its play.

When the Stags cut the halftime lead to 16-14 after tries to No 8 Paul Miller, after a long buildup, and then halfback Jimmy Cowan, from an attacking lineout drive, you had the feeling something special might just happen. Eventually it did happen.

It may have taken the Stags to the final minute to win and reclaim the Donald Stuart Memorial Trophy but no one could deny their victory.

They played with more aggression and purpose.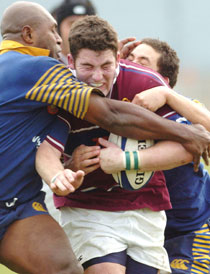 The scrum, with Jason Rickard impressing in his stint at tighthead in the first half, often had Otago's eight in trouble.
The lineout again worked well and the starting loose forward trio of Miller, Hale T-Pole and Jeff Wright clearly got the better of Otago's much-vaunted combination, who were largely reduced to defensive roles.
Cowan controlled proceedings nicely, while Bryan Milne and Mike Maguire, who had a half each at centre, looked likely on attack.
The other key factor was the Stags' tenacity.
They wanted this badly and kept coming back at the blue-and-golds, who extended their halftime lead to 23-14 early in the second half when halfback Danny Lee scored a soft try by pouncing on the loose ball in the Stags' in-goal area.
Miller, of course, was the catalyst to the comeback and easily the game's standout player.
He scored three tries and was seldom out of the action.
His second try came in the 73rd minute from another attacking lineout drive and when Richard Apanui converted from near the sideline the Stags had hit the lead for the first time at 24-23.
Then disaster, with Jason Kawau scoring in the right-hand corner for Otago three minutes later after replacement centre Seilala Mapusua made its only clean line break of the game.
Up 28-24 and not deserving it, Otago looked set to return home with another local derby win. Miller had other ideas and so, too, did lock Daniel Quate.
He made a 30m burst before being ankle-tapped 15m from Otago's line.
The ball was moved right, Maguire cut through before being hauled down just short and Miller arrived to scoop up the ball and power over for the game-winning try.
Apanui's conversion, which saw him finish with 11 points and five successful shots at goal out of seven, completed a stirring Stags win that left coach Young rightly happy.
"Our plan was to attack their strengths – obviously their scrum, their lineout and their maul – to see where we are at," he said.
"So we wanted to put a lot of pressure on their ball to try and slow it down.